In what environment does this data logger operate?
This data logger operates in an outdoor environment.
What measurements does this data logger support?
The H07-002-04 data logger supports the following measurement: Event
The country of origin for this product is the United States. To see the full specifications for this product, please see our product manual found under the documentation tab if available.
Event type: Relay contact openings
Minimum event interval: 1/2 second
Operating temperature (logger): -20°C to +70°C (-4°F to +158°F)
Time accuracy: ±100 ppm at +20°C, full dependence shown in the manual
Capacity: 8000 events (note that the 8000 events require 32K of memory in the HOBO Shuttle to fully offload.)
Size/weight: 4.25" x 3.50" x 1.75"/ 3.3 oz.
Battery: CR-2032 (lithium); provides one year of continuous use
Storage temperature: -40°C to +75°C (-40°F to +167°F)
Case: Weatherproof enclosure (avoid placing in direct sunlight)
Relative humidity range (when case is open): 0 to 95%, non-condensing
Documentation for the H07-002-04
The following are associated resources for this product. In general users of this product can gain insight into its possible use by utilizing the resources below.
Customers Also Bought
The Data Logging Rain Gauge is a battery-powered rainfall data collection and recording system which includes a HOBO® Pendant Event data logger integrated into a tipping-bucket rain gauge. This model automatically records up to 3200 mm of rainfall data that can be used to determine rainfall rates, times and duration. Also records temperature when used with an optional solar radiation shield (RS1 Solar Radiation Shield, or M-RSA). A base station or shuttle is required.
A miniature, waterproof one-channel temperature data logger, this model is value-priced for short-term shipping applications or long-term deployment. Data logger alarm LEDs flash if temperatures have exceeded user-set levels and delay options, and provide visible verification that temperatures have been within the desired range throughout deployment. This 64K model stores approximately 52K of 10-bit temperature readings. For accurate temperature measurement in sunlight a solar radiation shield is required (RS1 Solar Radiation Shield, assembly required; M-RSA pre-assembled Solar Radiation Shield).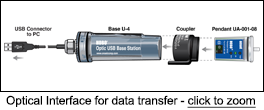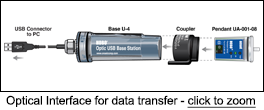 Accurately measure rainfall with the HOBO Pendant Event Data Logger. Determine rainfall rates, times, and duration after deployment with most standard tipping-bucket rain gauges. Efficiently gather and store momentary contact events and temperature data. Additionally, gain access to detailed event data. Event data is only stored when it happens for better memory usage. Use a solar radiation shield for accurate temperature measurement in sunlight applications. See RS1 Solar Radiation Shield (assembly required) and M-RSA (pre-assembled) Solar Radiation Shield.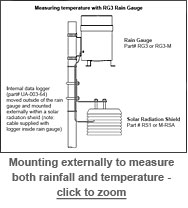 ​
Records state changes, electronic pulses and mechanical or electrical contact closures from external sensing devices. Ideal for monitoring energy consumption, mechanical equipment operation, and water and gas flow. The HOBO UX90-001 State Data Logger is available in a standard 128 KB memory model (UX90-001) capable of 84,650 measurements and an expanded 512KB memory model (UX90-001M) capable of over 346,795 measurements.
Recently Viewed
Detailed Specifications
HOBO Event Data Logger
Event type: Relay contact openings
Minimum event interval: 1/2 second
Operating temperature (logger): -20°C to +70°C (-4°F to +158°F)
Time accuracy: ±100 ppm at +20°C, full dependence shown in the manual
Capacity: 8000 events (note that the 8000 events require 32K of memory in the HOBO Shuttle to fully offload.)
Size/weight: 4.25" x 3.50" x 1.75"/ 3.3 oz.
Battery: CR-2032 (lithium); provides one year of continuous use
Storage temperature: -40°C to +75°C (-40°F to +167°F)
Case: Weatherproof enclosure (avoid placing in direct sunlight)
Relative humidity range (when case is open): 0 to 95%, non-condensing