HOBO MicroRX Water Level Station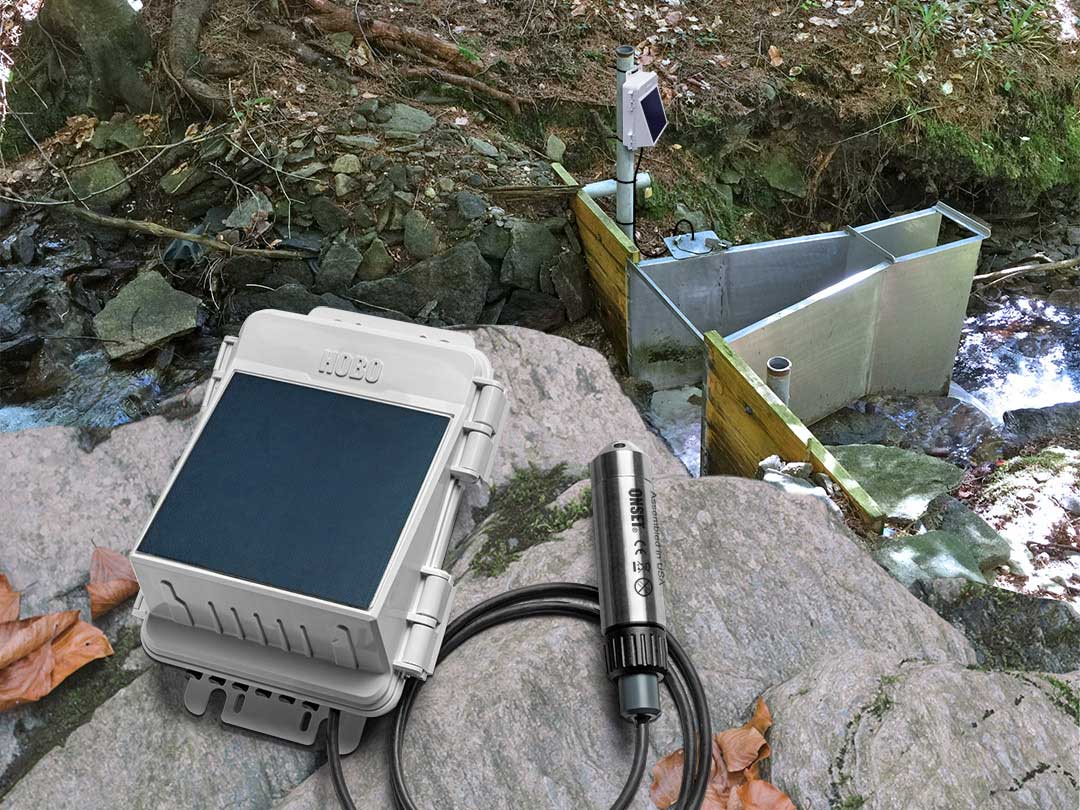 Your complete HOBO cellular water level solution
, starting at

$

1,214

USD
The award-winning, cellular, web-enabled HOBO® MicroRX station is partnered with Onset's own water level sensor to deliver water level and flow monitoring data to cloud-based HOBOlink® software. Spend more time focusing on results, and less time on configuration and data access.
Key Advantages:
Eliminate complicated manual calculations with pre-programmed water flow formulas
Act quickly in response to alarms triggered at time of measurement for water flow and accumulated rainfall
Reduce maintenance visits with the non-vented water level sensor
Deploy in harsh conditions with the tough, compact station
Monitor multiple environmental parameters with the flexibility of Onset's suite of smart sensors
Easily configure data feeds to industry-leading software, including Aquarius and Datawise
Powerful Web-Based Access to your Data
View and manage your water level measurements, configure alarms, create custom dashboards, and view your data on any device with an internet connection through Onset's cloud-based HOBOlink software.
Learn More
Reliable Water Level Monitoring
With a tough, compact station and a reliable water level sensor, you can monitor water level in the harshest conditions.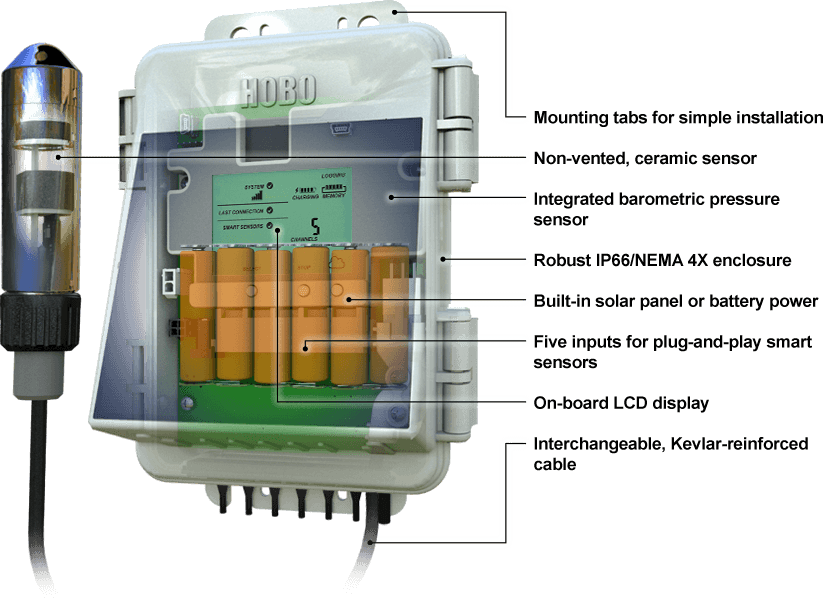 Multi-Environment Water Level Monitoring
Stormwater Monitoring
Supports requirements for federal and state industrial permits, on-site inspections, and wetlands monitoring.
Floodwater Mitigation
Provides an alert system for potential flooding situations from storm events and high water levels.
Groundwater Monitoring
Monitors groundwater levels and quality in boreholes, tanks, and wells to understand and observe potential drought conditions or contamination.
Hydrological Studies
Monitors surface water systems and aquifers to support water quality and environmental studies.
Available Measurements
Calculated Evapo-
transpiration
Light - PAR &
Solar Radiation
* Included
Build Your HOBO Water Level Station
The HOBO MicroRX Water Level Station is web-enabled with user-selectable data plans, an integrated barometric sensor, and Onset's water level sensor with customizable range and cable length.
Optional accessories include up to five Onset smart sensors, including a rainfall gauge sensor, a 5 W solar panel*, and a mast or tripod for mounting the station.
---
Want more?
See additional options on the product page.

Need help? Contact our sales team.
*External solar panel replaces the integrated solar panel, and is only available with the RX2104 model.
HOBO Water Level System
Starting at


$

0

USD
Select options:
(one of each)
1
Station model
?
MicroRX Station
The compact and rugged HOBO MicroRX Station is an easy-to-deploy, low-cost cellular solution for long-term, reliable field monitoring. Two power source options are available: a solar panel for extended deployments, and user-replaceable batteries for flexible mounting in covered or protected locations. The station includes inputs for up to five of Onset's research-grade plug-and-play sensors, and can be ordered with an additional water level sensor input with integrated flow conversion...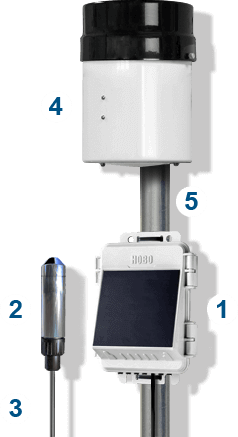 Want to learn more?
View our webinar on the HOBO MicroRX Water Level Station.