Wireless Temp/RH data - straight to your mobile device or laptop with the HOBO MX2300
Overview
With Onset's HOBO MX2300 Series Temp/RH loggers, field data collection has never been easier. You can set up and offload loggers wirelessly from your mobile device or Windows computer.
HOBO MX2300 loggers provide a 100' wireless range, making it easy to offload data in hard-to-reach locations. And 0.2C accuracy ensures you're getting reliable, true results every time.
Key Advantages
Convenient wireless setup and download via Bluetooth Low Energy
Compact, weatherproof housing with built-in mounting
Current data in real time with Onset's free HOBOconnect app
Ability to share downloaded data easily from your mobile device
Accurate Data, Easily
Get the measurement accuracy you need – wherever you need it – without having to remove loggers from their deployed locations to offload data. All you need is a mobile phone, tablet, or Windows computer running the free HOBOconnect app. No cables to connect!
Legendary Reliability
HOBO MX2300 temp/RH loggers are built to withstand the elements. They feature a rugged weatherproof housing designed for long-term studies – even in harsh climates. Their compact size and built-in mounting holes make deployment simple, with no need for mounting brackets in most cases. Plus, wireless communication means these loggers can be deployed entirely inside our RS1 solar radiation shield for high reliability, while still being easy to offload with a mobile device or laptop.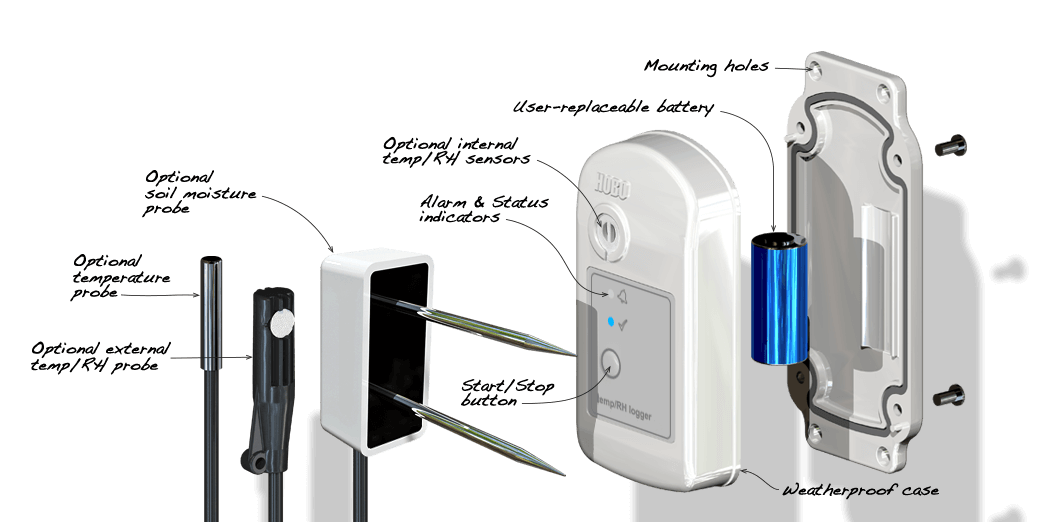 Choice of Models
The HOBO MX2300 Series offers five models, covering a broad range of outdoor monitoring applications, from agricultural research to forest ecology studies. The series includes internal sensor models that are highly durable and easy to deploy, and external probe models that are well-suited for monitoring conditions in soils, water, walls, and more.