InTempVerify
Combining the automation benefits of a wireless (Bluetooth/cloud) solution with the data accessibility of a USB logger, InTempVerify is a free mobile app that allows activation of data downloads by anyone, anywhere, anytime!
Simply program your loggers to be recognized by InTempVerify and, with just the push of a button, anyone in the world with the app can download data and send it straight to your InTempConnect account. Plus, users can view alarms and real-time data while in range of the loggers and make critical decisions on the spot. No need to plug the logger into a computer or cradle, no need to manually send data and reports, and no need to worry about getting crucial data to the right people, on time!
Who It's For
The InTempVerify mobile app is right for you if:
Your organization is using InTemp data loggers to monitor Life Science products in transport
You want restricted user access to data-download function only, so package transporters/receivers can get quick, easy access to logger data, then continue logging
You need an app that provides unknown users with the same accessibility of a USB data logger, but without the need for a computer

One-time Sign-in
Never get signed out of the app, for quick log-in and easy password management

One-tap Downloads
Data downloads with one simple tap of the screen, loggers are never stopped or restarted

Data in Real Time
Users can view current temperature, critical alarms, and logger information while in range of the loggers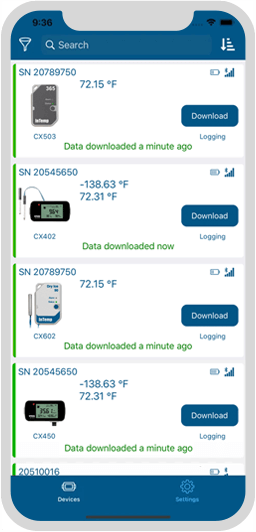 Highly Secure
21 CFR Part 11 compliant, and you choose which loggers do and do not work with the app

Auto Data Delivery
Data is automatically sent to the InTempConnect account associated with the logger

Get Notified
Works seamlessly with InTempConnect notifications for greater visibility and on-time data analysis
USB Accessibility Without the Wires!
Despite the many advantages of cloud solutions for temperature monitoring, user management can be a significant challenge. To maintain security, all users must have access to the cloud account in order to view data, perform downloads, and send reports. This can be a logistical nightmare for any company that uses fleets of drivers or ships direct-to-patient and needs immediate data access. And while USB data loggers provide the benefit of on-the-spot data downloads, the action requires a computer.
The InTempVerify app provides the same accessibility of a USB logger, but without the computer. Users with the app on their mobile device simply tap download for immediate access to data, which is automatically sent to the cloud account that originally programmed and started the logger. No massive user management, no computers, full data accessibility!
Free, Secure, Easy to Use
The InTempVerify app is free, 21 CFR Part 11 compliant, and easy to use. Designed for direct-to-patient and everyday shipping, InTempVerify's one-tap download and simple user interface make it a breeze for anyone to operate. No need to worry about users accidentally stopping the loggers or erasing data, because they have only one option – one-tap data download. And you decide which loggers can and cannot be used with the app.
Resources
Download Now
Products
System Requirements
iOS 13, 14 and 15
Android 10, 11, and 12