Indoor Monitoring Solutions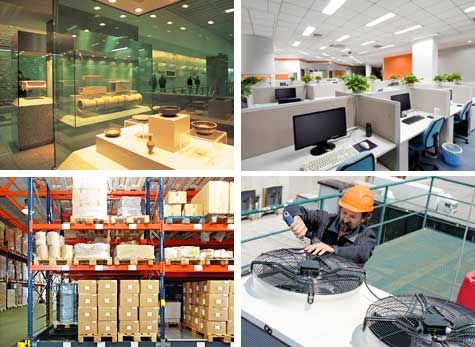 Whether you're a property owner, warehouse manager, or facilities engineer, your building is important to you. Keep your costs under control and your facility's occupants safe and comfortable with HOBO monitoring solutions that are:
Highly accurate
Easily deployed
Affordable
Because we offer such a broad range of loggers, sensors, and software, you have the flexibility to assemble a custom solution for your unique needs.
Indoor Monitoring Solutions from the Industry Leader
As a trusted manufacturer of HOBO data loggers for more than 35 years, Onset provides the monitoring tools you need to maintain an energy-efficient, healthy indoor environment.
Indoor Air Quality
Collect data to identify source issues and develop and prove solutions – with temperature, relative humidity, and carbon dioxide data loggers
HVAC/R
Monitor indoor conditions to diagnose mechanical issues, locate sources that compromise comfort, and balance reliable interior environments with energy costs
Preservation/Museums
Use temperature, CO
2
, and relative humidity data loggers to ensure the safe preservation of displayed and archived materials, and the comfort of visitors
Warehouse/Storage
Optimize operations, reduce costs, protect product, and prove regulatory compliance – with localized or remote indoor monitoring solutions
Facility Management
Use temperature, RH, light on/off, and plug load data loggers to reduce energy consumption, optimize facility performance, and ensure occupant comfort
Energy Auditing
Utilize industry-leading data loggers, sensors, and software to collect and analyze data used in energy audits, and capture accurate energy and performance data
Building Commissioning
Save energy and ensure optimal building performance with indoor data loggers that provide actionable information for system optimization
Performance Contracting
Monitor indoor conditions with temp, RH, CO
2
, and energy data loggers to evaluate contractors' performance and confirm their responsibilities are met
Measurement Comparison
Connectivity
USB
Bluetooth Low Energy (BLE) Remote Web Enabled via MX Gateway
Remote Web Enabled
Remote Web Server
Product Family
UX100
UX90
UX120
U12
Industrial
Food-grade
MX1100
MX2300
Industrial
Weatherproof
MX2200
Industrial
Waterproof
MX100
RX3000
RX2100
EG4100
Energy
Meter
Environmental - Indoor Air Quality
Temperature (built-in)
✔
✔
✔
✔
✔
✔
Temperature (probe)
✔
✔
✔
✔
✔
Thermocouple (probe)
✔
✔
Relative Humidity
✔
✔
✔
✔
✔
Dew Point
✔
✔
✔
✔
✔
Carbon Dioxide (CO

2

)
✔
✔
✔
Light Intensity
✔
Energy
AC Current (Amps)
✔
✔
AC Voltage (Volts)
✔
✔
AC Current (TRMS Amps)
✔
✔
AC Voltage (TRSM Volts)
✔
✔
DC Current (Amps)
✔
✔
DC Voltage (Volts)
✔
✔
Killowatt Hours (kWh)
✔
✔
✔
✔
Plug Load
✔
Power Factor (PF)
✔
Ah, A, kWh, kW, PF, VAR, VARh, VA, V, Wh, W
✔
✔
Time-Of-Use
Light On/Off
✔
Motor On/Off
✔
State Changes
✔
✔
Occupancy
✔
External Input
Air Velocity
✔
✔
✔
Differential Pressure
✔
✔
✔
Gauge Pressure
✔
✔
✔
Compressed Air Flow
✔
✔
✔
Water Flow
✔
✔
✔
Input Adapter
4-20 mA
✔
✔
✔
Pulse
✔
✔
✔
✔
DC Voltage
✔
✔
✔
HOBOnet Wireless Sensors - Larger Facilities / Indoor Grow Facilities
Temperature
✔
✔
Relative Humidity
✔
✔
Dew Point
✔
✔
Pulse Input
✔
✔
Solar Radiation (Energy of Sun)
✔
✔
Photosynthetic Active Radiation - (PAR) Light for Plants
✔
✔
Rainfall
✔
✔
Wind Speed, Gust & Direction
✔
✔
Soil Moisture
✔
✔
Soil Electrical Conductivity (EC)
✔
✔
Leaf Wetness
✔
✔
Evapotranspiration (ET)
✔
✔